The kids and I were watching the Disney movie, Atlantis: The Lost Empire, and they really wanted a crystal necklace like in the movie.  Since the movie was 9 years old, I figured the chance of there being a crystal-necklace toy was slim, so I whipped out Adobe Illustrator and made a quick paper model (papercraft) of the crystal necklace.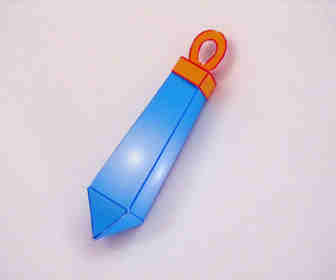 I wanted it to have the cartoon look, with solid lines on all the edges, so this model does not follow the dashed-line conventions used by most paper models. Since there are only three parts to the model though, it's pretty easy to figure out how it works. You can download a PDF of the Atlantis crystal necklace below.

There are four models on one page: two regular crystals, and two glowing crystals. The paper size used in the PDF is a mutant size that will fit on letter-sized or A4.