The motherload finally got here. I spent several months ordering parts and collecting them at my brother's, which he then put in a crate and shipped to me.  Thanks bro, I couldn't have done it without you!

Basically, I ordered everything I needed to rebuild the front end (including Sway-A-Way torsion bars from eshocks.com), plus some trim, like a new chrome grill and side-view mirrors.  I also got new rear axles.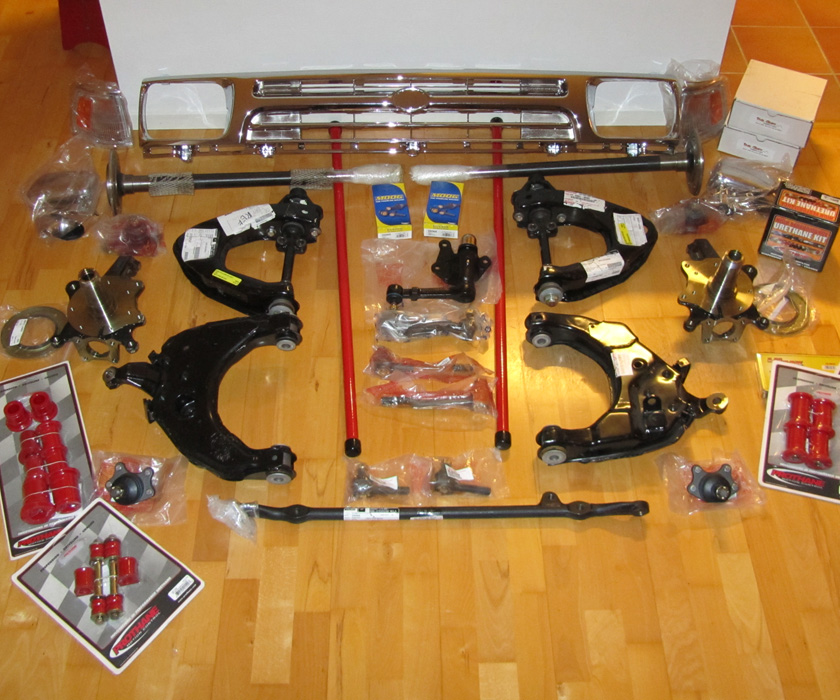 Oh yes, those are brand new, factory-original control arms and spindles!
UPDATE:
Here's a nearly complete list of what I got so far:
Control arm, lower, RH, LH
Control arm, upper, RH, LH
Steering knuckle RH, LH
Center-link
Wheel seal LH + RH
Upper ball joints, LH, RH
Lower ball joint, LH, RH
Idler arm
Pitman arm
Tie rod ends X 4
Sway-A-Way Torsion bars
Prothane bushings (body mounts, comtrol arm, spring shackles, sway bar bushings and end links, tie-rod boots)
Rear axle, LH,RH
Rear axle bearing service kit X 2
Lug nuts and studs X 12
Chrome grill (på bilen)
Chrome corner lights
Chrome bumper
Valence
Brake light RH
Door RH (a whole new door and new window)
Windshield and rubber seal
Fender RH